For as long as trucking has been around, there have been Owner Operators. These small, independent contractors would take a percentage of whatever a load paid, and then figure out how to cover their expenses on the back end. They took the loads they wanted to take, worked when they wanted to work, and allocated the revenue they received however they saw fit.
However, in a climate of increasing expenses, relatively flat revenue, greater congestion, and increasing regulations it's beginning to feel like the Owner Operator/Independent Contractor (OO/IC) model is under siege from both a number of external forces, and even from within its own ranks. As it becomes increasingly more difficult for the owner operator to make a profit, we see that many IC's are exiting the industry or migrating towards becoming company drivers.
In this white paper, we will examine the impacts of recent rules affecting the Independent Contractor community, court rulings around Independent Contractor misclassification and the downstream impacts on the Shippers that use them.
EXTERNAL PRESSURES ON THE INDEPENDENT CONTRACTOR MODEL
If you think of each OO/IC as a small business, the math is fairly simple. On the top of their P&L is the revenue line, and below the revenue line are their expenses. Once you subtract the expenses from the revenue, you have the profit that each small business makes.
The fundamental problem with the typical OO/IC profit and loss statement is that it is being squeezed downward on the top line revenue by laws limiting the hours they can work,, and the mandates around electronic logging devices which actually measure their hours worked.
At the same time their expenses are increasing due to government regulations around engine emissions (which have increased the cost of a tractor dramatically), and there's pending legislation that would further increase the cost of equipment by requiring Collision Avoidance Systems, and Electronic On Board Recorders.
Throw in congestion at the ports, an underfunded highway system which further slows the movement of goods and materials, and you've got a business model that is becoming increasingly unsustainable.
In an industry that struggles to attract new drivers, (and is losing more and more drivers to retirement every year), the idea of "going it alone" as an Independent Contractor for less money is rapidly becoming an unappealing career path.
Port Restrictions: Many of the nation's ports are instituting "Clean Air Truck" regulations which are phasing out many of the older, less fuel efficient, less environmentally friendly trucks. That's good for the environment, but bad for the IC's because the trucks that are being phased out, are the ones that they are currently driving.
These older tractors are favored by OO/IC's at the port because they aren't that expensive, and it helps them keep their expenses low and be more competitive. Typically these trucks have seen their fair share of road miles, and have already racked up several hundred thousand miles on them before they get picked up for port drayage work. When an IC has to buy a more expensive truck, his expenses go up, but the rates he or she is being paid don't necessarily follow suit.
Beginning in 2017, The port of NY/NJ won't allow any truck with an engine older than 2007 to be used to do port drayage, but that's nothing compared to California. California has had the 2007 engine standards in place since 2012, and Gov. Jerry Brown recently signed a Bill to move busses and trucks to a zero or near-zero emission level.
Rising Cost of Equipment: Government mandated regulations around Electronic On-Board Recorders and Electronic Logging Devices are set to be phased in starting next year. In the past there have also been several iterations of engine emissions standards. Because of the changing engine standards that have been enacted over the last decade, truck prices have increased dramatically (especially compared to inflation and average rate increases).
These types of mandates have further increased the operating costs of the OO/IC's, and make it harder for them to realize the same levels of profitability that they once enjoyed.
Pending Legislation: Rising equipment costs, electronic on-board recorders, and Port restrictions are just the challenges that the Owner Operators and Independent Contractors know about right now. There's always pending legislation that needs to be considered. For example, on July 10th 2015, Senator Cory Booker, the top Democrat on the Senate Subcommittee that oversees Truck Safety, introduced The Truck Safety Act (S. 1739) (http://bit.ly/1MwDnfm) .
Among the key components of the proposal are the following provisions:
Minimum Insurance – This would up the minimum levels of insurance carriers must have from $750,000 to $1.5 million. The bill also would increase insurance levels to keep pace with inflation.
Collision Avoidance Systems – Would require a rulemaking for commercial motor vehicles to have crash avoidance systems, such as forward collision warning systems and lane departure warning systems.
Speed Limiting Devices – Would require the Secretary of Transportation to finalize regulations requiring commercial motor vehicles to have speed limiting devices to prevent speeding. The American Trucking Associations has been calling for such devices for some time, while the Owner-Operator Independent Drivers Association opposes them.
So, when we look at the known legislation and the possible legislative items that will impact the IC's, we see that none of them are positive from an IC standpoint.
INTERNAL PRESSURES ON THE INDEPENDENT CONTRACTOR MODEL
One of the most surprising forces working against the OO/IC operating model is the growing chasm within their own ranks. A growing number of Independent Contractors are saying that they are in fact company employees. Many IC's are saying that as company employees, they should be entitled to the overtime, the benefits, and the right to organize that they are currently denied because of their classification.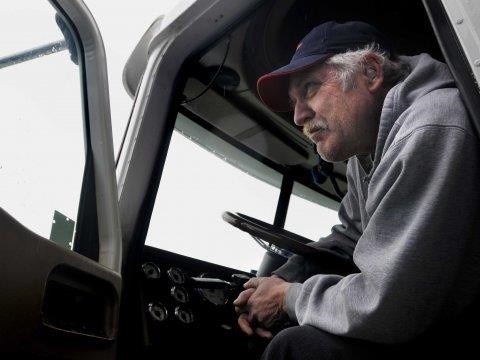 Employee Misclassification: Employers will often hire drivers as Independent Contractors in order to avoid federal and state tax withholding, fringe benefit, anti-discrimination rules, health care, pension obligations, worker's compensation and unemployment insurance obligations, etc. Many times this classification is just fine for both the trucking company and the OO or IC. However, a growing number of IC's are becoming disenchanted with the model because they feel like the companies that they contract with aren't really giving them any independence. Instead they are treating them like employees, but without giving them any of the employee benefits.
Most famously is the recent $228 Million settlement by FedEx who used Independent Contractors as one of the foundations of their business model. Most people outside of the Transportation Industry would probably have never guessed that their FedEx delivery person was an Independent Contractor and not a FedEx employee…and in fact the 9th District Circuit Court has said that they aren't Independent Contractors and are indeed FedEx employees.
But FedEx isn't the only one who recently lost this type of case. Truck drivers at Pacific 9 Transportation at the Port of LA/Long Beach claim that Pacific 9 was misclassifying them as independent contractors and depriving them of benefits, higher pay and their right to organize. Drivers for Pacific 9 and other short-haul companies have gone on strike several times since 2013 claiming they have been misclassified and retaliated against for speaking out about their labor conditions.
A recent settlement with the Department of Labor not only decided the drivers were misclassified, but that they also had the right to organize with the Teamsters.
IMPACTS ON SHIPPERS
Liability: If you're a large shipper, you may feel fairly removed from this topic, but the reality is that you may have more exposure than you think. Just ask Macy's. They contracted with two logistics providers for a Dedicated Fleet to do home deliveries (Joseph Eletto Transfer, Inc. in California and HomeDeliveryLink (HDL) in New Jersey). Their logistics companies in turn hired Independent Contractors and helpers to execute the deliveries.
In essence, Macy's hired logistics companies as their Dedicated Contract Carriage provider, and had an "arm's length" relationship with the drivers and helpers.
Drivers at those two companies took their employers and Macy's to court, and claimed that they were not Independent Contractors, and that they were company employees that had been misclassified. The courts agreed with the drivers that brought the suit, and it was ruled that the IC's and their helpers were indeed misclassified. (see Fuentes v. Macy's West Stores Inc., No. 2:14-cv-00790 (C. D. Cal. Mar. 16, 2015)).
They went on to further state that not only should the IC's have been classified as employees of the logistics companies, they should have been classified as Macy's employees. The logistics companies and Macy's had to settle for $6.8 Million.
Macy's ended up having to pay the bulk of that settlement because it asked for things like having the logistics company put the name "Macy's" on the truck doors, asking the logistics company to have a dress code for their drivers and helpers, and having the drivers follow the most efficient route (which Macy's provided).
It is important to understand that all of these things are pretty standard requests from shippers when they contract with an asset based company to do their Dedicated Contract Carriage work.
We have been doing Dedicated Contract Carriage for 20 years, and having drivers wear shirts with the customer's name, putting logos on the equipment, adhering to a dress code, and following the routes that we are tendered for delivery is simply standard operating procedure.
If you're a major shipper and you are using a trucking or logistics company to do your Dedicated Fleet deliveries, you need to re-examine that relationship immediately if your Logistics provider is using an OO/IC model. You could be the one responsible for driver misclassification settlements, especially if you're the one in the room with the deepest pockets.
IN CONCLUSION
So is the Owner Operator/Independent Contractor model an endangered one? The answer is "probably not." Even with the impact that government regulations, congestion and rising equipment costs bring onto the OO/IC's, they are a resourceful and resilient group. The ones that stay Independent will stay as long as long as they want to stay, and as long as they want to put up with additional regulations, reduced productivity, and increasing expenses.
We feel that that the OO/IC model is never going to completely go away. Like everything else though, it will have to change.
The FedEx ruling probably signals that IC's will probably phase out of the parcel/small package model.
We can't imagine the IC model being the first choice for shippers looking to have a Dedicated Contract Carriage fleet (as we saw in the Macy's example).
It also appears doubtful that it will survive much longer on the major ports.
We think the OO/IC model will continue on in longer length of haul applications. However, look for it to become increasingly scarce in Port Drayage, Dedicated Contract Carriage and Parcel Delivery.
ABOUT SALSON LOGISTICS
Salson Logistics is a leading third party logistics company providing comprehensive supply chain management solutions that span the globe. Our supply chain management solutions are flexible, scalable, and offer visibility throughout the supply chain. We operate with honesty and integrity.
SalSon employs more than 1,000 associates, 550 tractors, 1,200 trailers, 1,000 container chassis, and operates more than 1 million square feet of warehousing while providing a range of services.
The company offers warehousing, transload services, dedicated contract carriage, dray management, and store delivery servicing the retail, food and beverage, and industrial industries.
SalSon is a Foreign Trade Zone operator, is a Customs Examination Station (CES), Container Freight Station (CFS), Bonded, General Order warehouse operator, Food & Drug Administration-certified, and C-TPAT compliant.
SalSon earned a spot among the top 100 supply chain partners in the voice of the customer in the United States by Supply Chain Brain for 2014. SalSon Logistics also was named Carrier of the Year, recognized by several major retailers for excellence, was awarded the Green Port Appreciation Certificate by the Port Authority of New York and New Jersey and is a Swart- Way Carrier.
For more information, contact Chris DiPasquale at cdipasquale@SalSon.com