To combat heavy truck congestion, in January the Port of New York and New Jersey rolled out a pilot program which requires truckers and trucking companies to make an appointment to pick up containers between the popular hours of 6–9 am (appointments also available, but not required, after 9 am). This pilot program is in effect only at the Global Container Terminal (GCT) in Bayonne, NJ – making it the first terminal on the East Coast to require appointments.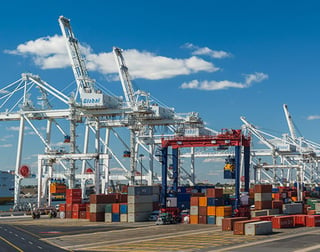 Although the appointment window is one hour, with a half hour grace period on either side, some carriers remain concerned that issues outside their control could prevent them from arriving at their appointed time and cause them to have to arrive during non-appointment periods where there may be longer lines, possibly losing a day. But from where we sit the early verdict on the Bayonne Terminal Appointment system seems to be "so far, so good."
Why Are Bayonne Terminal Appointments Necessary?
As anyone familiar with northern New Jersey logistics can tell you, traffic can be a real issue. The Bayonne terminal, similar to all other terminals, has had its share of truck traffic (which leads to traffic for everyone else), but the last few years have at times been particularly challenging.
For starters, container volumes are up over 10% at the GCT. More containers = more trucks. Local highway construction projects took this larger volume of traffic and squeezed it into fewer lanes. A bad recipe.
Looking ahead, the upcoming completion of the Bayonne Bridge improvement project - which will allow larger ships to pass under it - will exacerbate the problem as the (inner harbor) terminal begins to receive Post-Panamax vessels.
Something had to be done and kudos to the Port of NY/NJ for taking action.
According to GCT officials, the Bayonne terminal appointment system has sped up truck turn times by 40%, compared to trucks that did not have an appointment. That means happier carriers (efficient utilization of drivers and assets) and happier importers (no demurrage charges and a faster distribution and cash cycle).
The Chassis Dilemma: the Advantage of Being Asset-Based
Getting an appointment at GCT Bayonne works a little like reserving a meeting time on someone's online calendar. A carrier can log in 24 hours in advance of the desired appointment time and reserve a spot, if one is available. SalSon typically handles 20 to 30 containers a day at the Bayonne GCT, so we've become a "power user" of the new system.
Carriers, like SalSon, that own and provide chassis as part of their dray service have a distinct advantage under an appointment system.
For a driver to hit his appointment time, unexpected delays must be avoided. But with steamship lines getting out of the chassis business, drivers often have to visit a chassis pool before picking up a container. Delays there can lead to a missed appointment, forcing drivers to wait hours to get through the gate and subjecting importers to demurrage charges and supply chain delays.
Asset-based carriers, and their customers, avoid this problem.
Using a non-asset based dray company is a little like going to Starbucks for a cup of coffee and having to bring your own cup. Coffee without a cup doesn't get drunk. Containers without wheels don't move. If and when terminal appointment systems become the norm, dray providers who provide their own chassis will have an advantage.
Port Appointment Systems: Looking Ahead
Container shipping is a remarkably efficient way to ship a large volume of goods over great distances. What isn't so efficient is the time it can take truck drivers to actually receive these containers and perform drayage services. The Bayonne Terminal Appointment pilot is a huge step in the right direction. If positive results continue, it makes sense that we would see similar programs rolled out across additional terminals at the Port of NY/NJ and in Norfolk, Charleston, Savannah and other key East Coast ports.