I know a restaurant owner in New York City who expanded his seating capacity by 50%. Before he did it, he hired more wait staff.
A new mall is being built near my home. Currently, surveyors and town planners are examining road expansion options to accomodate the added traffic that they know is coming.
On June 30, the newly raised Bayonne Bridge will open up, allowing large container ships to reach APM, Maher, and Port Newark Terminals. In preparation, large importers are....
Well, we're not quite sure.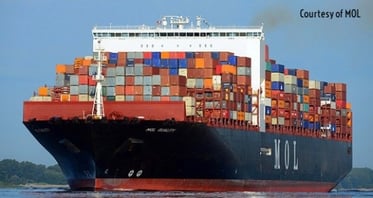 The raising of the Bayonne Bridge is a big deal that's been coming for a very long time, but many of the importers we speak to are not proactivley evaluating their drayage services and their ability to handle larger container volumes and velocity through these ports.
That's a problem. Why?
Higher container volume entering already crowded ports means these containers need to be moved off port faster. That requires:
Dray drivers (already in short supply)
Power (drayage services are dominated by non-asset based carriers who can't guarantee capacity)
Chassis (discussions of a universal chassis pool at the Port of NY/NJ have stalled and issues with chassis availability and quality persist)
Without proper planning, containers could sit at the port beyond free time and, for larger importers, easily rack up hundreds of thousands of dollars in demurrage fees.
That's risk. Big risk.
Assets: the key to capacity and lower risk
The traditional model of port drayage services (a notoriously cost-sensitive business) relies on independent owner operators using rented chassis. These drivers and assets are simply not reliable sources of capacity – particularly when that capacity is about to spike.
While many dray operators avoid hiring full-time drivers and investing in equipment, SalSon has continually expanded its driver force at the port, as well as its chassis and tractor fleet.
Owning assets is certainly a concern if freight volumes decrease. But the large importers we serve count on reliable dray capacity, and that's hard to deliver without assets. So we continue to invest:
Our 55-acre Newark logistics campus inside Port Newark can park over 2,000 containers on wheels
SalSon has a fleet of 1,200 custom-designed chassis that meet our demanding specs
All SalSon chassis are expandable from 20' to 40' or from 40' to 45', so we can bring a 40' container to the port and return with a 45' container on the same equipment
Our dray operation in Port Newark runs 24/7 and is four times the size of our average competitor
We're at the cusp of an historic shift at the Port of New York and New Jersey. Importers need to understand how this shift can and will impact their inbound supply chains.
Before Post-Panamax ships make their way into Newark Bay, large importers should take a hard look at their ability to handle increased container volumes and velocity – and the role asset-based partners can play in helping them prepare.