On Friday morning at 2 am, when most of the country was sleeping and gearing up for the long Memorial Day weekend, SalSon's CEO, Anthony Berritto, made a delivery to a Dick's Sporting Goods store in Pittsburgh. His ride? One of the newest and best tractors from Daimler – a 2018 Freightliner Cascadia model.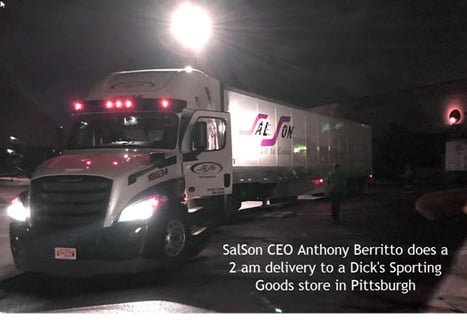 Earlier in the week, SalSon received the first shipment of 100 new Cascadias. The Dick's delivery was the maiden voyage for this latest addition to the SalSon dedicated fleet.
"We're investing to give customers the safest, most reliable and most fuel-efficient trucks on the road," said Anthony, who received his CDL license in 1983 and spent many years as a driver.
The Cascadia uses GPS and a terrain road map to know the route ahead and adjust speeds accordingly. This kind of driver support reduces driver workload and fatigue over time.
"I left the Dick's Distribution Center and literally did not apply the brake or gas pedal until I got to the store," said Anthony.
Fuel efficiency was one of the major draws that led SalSon to the new Cascadia from Daimler, and the truck did not disappoint. It achieved 8.9 miles to the gallon during this first run.
"Our customers are concerned not only with fuel economy but with sustainability," said Anthony. "The less gas used, the fewer emissions. Customers like Dick's want trucking partners that are upgrading their fleets to help reduce the carbon footprint of the company's supply chain."
The new SalSon tractors are not only about what's under the hood. In fact, driver experience may be one of its top features. From a super quiet cab, to more steering-wheel mounted controls, to a roomy and comfortable sleeping/dining area.
"The new Daimler truck rides and sounds just like the Mercedes I drive at home," said Anthony. "Our drivers work extremely hard, so we've invested to provide the most comfortable, most relaxed ride we can give them."
As for the store delivery itself, Anthony said it wasn't that easy. But the Dick's representative who accompanied him on the delivery gave it two thumbs up – on-time and 100% accurate. So if the CEO thing doesn't work out, looks like Anthony can find work out on the road.
SalSon will be taking delivery of its next batch of Cascadias in the summer.