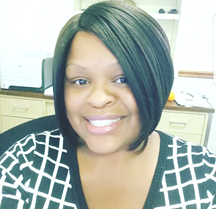 SalSon is pleased to announce that Loyce Cheatson has been promoted to Operations Supervisor for its Conley, GA operation. Loyce has been with SalSon since October 2015 and will now oversee all planning, dispatch and customer service activity.
With over 13 years of transportation experience, Loyce started her career in 2004 with Captran Logistics where she was responsible for directing logistics for a fleet of over 60 trucks. She has also worked for Central Refrigerated and Watkins Refrigerated where she was responsible for planning and management of more than 65 drivers.
Loyce believes strongly in the power of education and is currently pursuing her PhD in Advanced Human Behavior Studies, equipping her well to lead and manage a diverse group of associates.