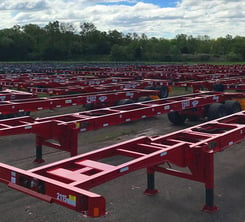 SalSon just took delivery of 100 new chassis, which will be deployed to support our port operations in Newark, Norfolk, Charleston, Savannah and Houston.
SalSon custom designs its chassis to be the most durable and advanced on the road. The new chassis extend to accommodate multiple container sizes (20'/40' and 40'/45'), they use super-single tires, and all have built-in QUALCOMM tracking devices. Check out our Chassis video.
Need dray capacity? We've got it.