SalSon Logistics continued to add to its modern fleet with the arrival, this week, of the first shipment of 100 2018-model "Cascadia" tractors from Freightliner. SalSon CEO Anthony Berritto commented: "At a time when many carriers are delaying equipment purchases, SalSon is investing to give customers the safest, most reliable and most fuel-efficient trucks on the road."
Since its founding in 1960, SalSon has been known by many for providing logistics services at ports. But the company also operates a large and growing dedicated fleet services business, with freight terminals up and down the Eastern U.S. The new sleeper tractors will support continued growth of this business.
Key features of the new tractors include:
FUEL EFFICIENCY
Advanced aerodynamics promote smooth air flow around the truck. In addition, the built-in GPS looks at the grade of the road one mile ahead and feeds that information to the onboard computer. The engine and transmission then work together to choose the best gear and RPM settings to maintain speed while reducing fuel use.
SAFETY
Trucks are equipped with "Intelligent Powertrain Management" and the Detroit Assurance™ suite of safety systems. When a vehicle gets within 2.6 seconds of following distance, the truck automatically reduces fuel, initiates engine braking and will apply the service brakes to avoid a collision. Other safety features include: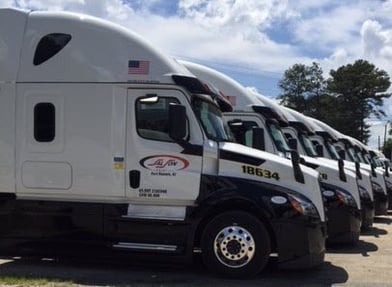 Cruising speed auto-adjusts to maintain a safe following distance
Lane departure warnings warn the driver if the truck drifts
LED headlights provide superb light and a wide field of view
COMFORT
In choosing the new trucks, SalSon did not forget our most important asset on the road: our drivers. Comfort features for our dedicated fleet drivers include:
A Detroit DT12 Automated Manual Transmission, which self-shifts for driver ease
More steering wheel controls
Added insulation to reduce outside noise and driver stress
Efficient use of space in the sleeper section for comfortable eating and sleeping
Additional tractors will be delivered through the balance of 2017.