The Port of Charleston – where SalSon's Charleston 3PL operation operates daily – was the site of an impressive logistics feat last week as the COSCO Development, with a capacity of 13,000 containers, made a stop at the Port.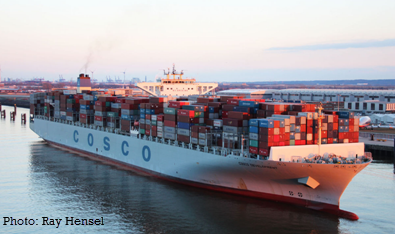 According to the Post and Courier, the State Ports Authority (SPA) "had no problem accommodating the Development, which arrived Saturday morning and left early Sunday night for its home port in Hong Kong. Hundreds of union workers and SPA employees moved 2,910 cargo boxes on and off the vessel — barely missing a single-ship record — using 155-foot-tall ship-to-shore cranes purchased specifically for the big ships that can now travel through the newly expanded Panama Canal."
Mega-ships of this size and much larger are going to be regular visitors to the East Coast as economics push carriers to use fewer vessels to haul increasingly large amounts of cargo.
The good news is that many ports along the East Coast have taken steps to welcome these ships. For instance, in Newark the newly-raised Bayonne Bridge will open on June 30 and allow mega-ships to reach the NYC market. Other port locations are following suit, with Charleston itself deepening its Harbor to 52 feet by the end of the decade.
Congrats to the Port of Charleston as it opens its doors to bigger vessels. SalSon is proud to handle a large volume of the drayage services through the port of Charleston, and through the ports at Newark, Norfolk, Savannah, and Houston.