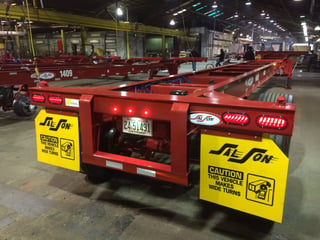 For years, chassis leasing companies have worked to forge a port-wide grey chassis pool at the Port of New York and New Jersey. But it just hasn't happened for a variety of reasons. The most recent effort collapsed this summer as independent equipment providers Flexi-Van and Direct Chassis Link could not finalize an agreement.
Amid all the wrangling about a NY-NJ chassis pool, Beneficial Cargo Owners (BCOs) are very interested bystanders. For them, it's all about getting products to market and converting them to cash as fast as possible. When chassis are not available, or truckers need to wait in long lines to secure them, bad things happen:
containers sit
the cash cycle lengthens
retailers get frustrated waiting for inventory
demurrage charges could be applied
Alternatives to a Chassis Pool are Available
All in all, uncertainty about chassis creates risk that BCOs don't like. Some are taking matters into their own hands and purchasing chassis to avoid dealing with chassis leasing companies that do not have port-wide interoperability. But, really, who wants to own chassis if that's not your business?
Other shippers have forged direct relationships with asset-based dray carriers, like SalSon, in order to guarantee equipment is available when they need it. These importers prioritize speed to market and want the shortest turn times possible to quickly get product in the hands of customers or, for retailers, their own stores.
Chassis Availability: A Case for Assets
While having access to equipment reduces risk for large importers, it increases risk for carriers who own the equipment if that equipment is underutilized. That's why most dray carriers at the port are non-asset based and, therefore, must rely on port chassis.
At SalSon, we've always believed strongly in assets as a means to minimize risk and enhance control of supply chain flows. The large importers we serve share our view, so equipment utilization is strong and we're able to add new tractors, trailers and chassis every year. In fact, SalSon's custom-made, combo chassis cost about $8,000 more than standard port chassis due to added features such as the ability to expand to accommodate multiple container sizes (see video).
Chassis Management in the Big Ship Era
The era of the mega-ship is here and the Port of New York and New Jersey is well positioned to be a port of choice for these vessels. Container volume here is on the upswing and that's a great sign. A busy, healthy port props up everyone in the port ecosystem.
But containers cannot move without chassis. Long term, a well-managed, NY-NJ chassis pool contributes to efficient port operations. So, it's important for key players to shape a deal that works for all concerned.
Currently, the port is handling the recent container volume uptick well and chassis availability has not been a major issue. But as volumes continue to rise, that's likely to change. Asset-based carriers with company drivers offer a safety net for large importers looking to keep goods, and cash, flowing.